This is a major upgrade to the Sudnow Method web site – don't be bashful about using the contact form or email to let me know what I missed.
You'll need to purchase a renewal and register (which can be done as part purchase process) – your account won't be activated on this site until you do.
Please review the membership options in the 'store' link to determine if you qualify as a  'Current student reinstatement or a 'Previous  student renewal' - or email me with specific questions and we'll get you set up.
I know this is a bit of a pain but we have two motives here:
To confirm who's actively engaged in the Method and, selfishly, to save ourselves the hassle of dealing with a bunch of legacy issues.
We hope you're willing to spend a few bucks to help offset the costs of this rework – if you've struggled with the Method before, I think the new format will be a big help to you.
Thanks for your support – we hope you enjoy the new web site.
The old site will be active until the end of 2015 here.
Our Mission – what we really care about:
There are few greater joys than finding your own musical voice, letting loose upon the world even the smallest expression of what makes you unique. That's what cheers us up the most. That's what we'd like for everyone who joins our little adventure.
"Given half an hour of your time and spirit and a quiet room, I could teach any of you how to play the piano – everything there is to know about playing the piano can be taught in half an hour. I'm convinced of it."    -Glenn Gould
There's not a music education program in the world for teaching adults to play songs on the piano that competes. Two decades of studies on over 25,000 students prove that no program will have you playing songs well in as short a time.
The Sudnow Method is a recorded seminar broken up into three basic lessons that you can access via your own private student account page. There are over 3 hours of recorded material and countless pages of supplemental resources – all available via any device capable of accessing the Internet.
You work through the recorded seminar at your own pace, to get yourself oriented (you can revisit lessons at any time). Then you go right to the piano to use a program that's laid out in perfectly clear detail. Follow it for a careful half-hour a day and you'll be amazing your friends in just months.
You start on a full blown adult version of a song (Erroll Garner's 'Misty'), notated in an easy-to-follow way – you do not have to read music. And you gain all your skill in the context of the kind of music you want to play, instead of working on certain drills just because tradition says they might help. By tackling adult arrangements, the music you want to learn shows you how to play it.
And in the clearest terms you'll find anywhere, you'll know what you need to: about melodies, scales, chords, voicing, harmony, the development of good technique, and the ingredients of rapid adult learning.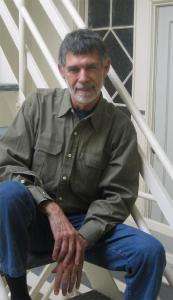 David Sudnow earned his PhD at Berkeley. In 1978, Harvard University published his classic study of keyboard learning, Ways of the Hand (a new edition was published by MIT in 2001). He received a Guggenheim Fellowship, and is the author of four books.
On a 1981 flight from NY to SF, he sat next to an architect from Stanford. The guy spoke of a lifelong frustration with learning music. In the time it took to fly from over the the Mississippi to San Francisco, on a few paper napkins Sudnow laid out a full method the guy could use, starting from scratch, to learn to play songs well.
Three months later Sudnow got a letter that changed his life. The architect bought a new piano, was now playing some songs well, and was drawing up plans to convert his garage into a music studio.
Knowing a short course was needed, Sudnow started meeting groups at his home. In several years he had a large studio in NY. The course went through changes: a big teaching workshop in Texas, over 100 weekend seminars taught in most major US cities, and lots of feedback from many students of the recorded seminar who came from three NBC Today Show appearances.
To this day, the program contains the same basic insight that led to its first success: a very complete, short recorded seminar, with good illustrations, very clear talk, and a jump straight into the deep water approach especially suited to the adult amateur. Over 25,000 students later, Sudnow would do it no other way.
THE SUDNOW METHOD - over 10,000 students worldwide
"Your system works, even for the most skeptical. Now when I enter a piano store I can sit down and try one."

"I've been a late starter but I'm going to make it, thanks to your fantastic method."

"Hurdles the wall adults put between themselves and learning to play."

"My father was pianist Arthur Rubinstein. I had the best lessons money could buy. But I always wanted to play Mercer rather than Mozart. With David's course I'm having the time of my life."

"I'm 56 and feel like a kid. I can really play, a feat I thought impossible."

"Breaks through to new understandings of what behavior, experience and learning are all about."

"Debunks the myth of talent."